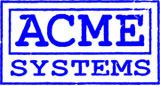 www.acmesystems.it
Personal blogs
Background
Acme's Friends
We would like to inform our clients that our shipping office will be closed from Aug 8 to Aug 23
DAISY-5 push-buttons add-on module
DAISY-5 is an 8 push-button module intended for educational and experimental purposes
Each button is wired directly on a single GPIO line. In normal conditions the GPIO line is pulled down (logic 0) through a 10 KOhm resistor. Pressing down the button the GPIO line is closed to +3.3V (logic 1) by a 1.5 KOhm resistor.
Python code examples
These examples show how to read the Daisy-5 buttons state with the module plugged in the Terra board D11 daisy connector.
The same examples can work using the following Daisy connectors with simple changes at the source:
| Terra | FOXG20 |
| --- | --- |
| D11 | D2 |
| D12 | D5 |
Read the pushbutton state using the polling way: polling.py
Catch the pushbutton state using the interrupt mode: interrupt.py
Note: The edge conditions falling and rising are managed just on the Aria G25/Terra. On the FOX Board G25 only the both edge works.
Schematic
DAISY-5 is simple module with 8 push buttons useful for lab experiments.

Note: the daisy flat cable to wire this board is not included. Don't forget to buy it (code FLAT-20CM)
DAISY-11 is simple module with 8 leds useful for lab experiments.

Note: the daisy flat cable to wire this board is not included. Don't forget to buy it (code FLAT-20CM)
20 cm ribbon cable with 10 wires compatible with the Acme Daisy Cabling System.

At least one of these cables is required to connect each Daisy module.

if you need different lengths please consider making your own the cable using the IDC socket JJ-02291-10P-F and the flat cable FC-3754-1M.


Acme Systems srl
Via Aldo Moro 53 - 00055 Ladispoli (RM) - Italy
P.IVA/C.F. 08114831004
Tel +39.06.99.12.187 - Fax +39.06.622.765.31
http://www.acmesystems.it
PEC: acmesystemssrl@pec.it
Iscritta al Registro delle Imprese di Roma al n. 08114831004


Atmel© Certified Partner
Acme Systems provides this documentation "as is" without warranty or guarantees of any kind. We not provide any direct support for the Open Source preinstalled software but, through these pages and forum posts, all of the information required to obtain the sources, install, use and update the Open Source software that can be run on the Acme boards. Please note that all of the preinstalled software, used on the Acme Systems products, are Open Source so you have to check the license terms provided by the authors (usually the GPL) before using it in any commercial or non-commercial product, by yourself. Before to contact us please note that WE ARE MAINLY HARDWARE DESIGNERS and NOT LINUX GURUS and therefore could be better to post your questions to the Acme Systems forum and ensure that all of the site contributors and large software community can read and reply to your questions.

This work is licensed under a Creative Commons Attribution-NonCommercial-ShareAlike 3.0 Unported License.