The Acme Systems shipping office will be closed for holidays from 14 august to 22 august
PLEASE NOTE: This article is obsolete or related to a discontinued product.
Mini Bluetooth USB adapter - BT06M
The BT06M Bluetooth USB adapter allows you to connect with your FOX Board enabled Bluetooth device such as Mobile, PC, PDA, and so on. It is Bluetooth 2.0 + EDR compliant and offers a transmission range up to 20 meter in open space.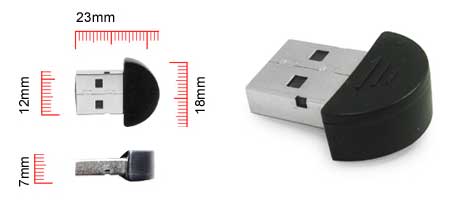 Specifications
Ready to use with the FOX Board (see here)
Bluetooth V2.0 & V1.2 compliant
USB version 1.1
Class II, 20 meters in open space
Carrier Frequency: 2.4 ~ 2.483GHz
Data Rate: Up to 3Mbps (The maximum operating range depends on the environmental factors.)
Package Contains:
Bluetooth USB Adapter
CD with Windows Driver