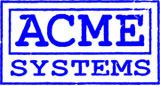 www.acmesystems.it
FOX Console
FOX Console is a TTL to RS232 converter to connect a PC serial port to J10 FOX Board console port
The FOX Board has a serial console port on its J10 connector. By connecting this port to a RS232 port of a PC through Fox Console and a straight cable (not null modem) you can have direct access to the Linux console allocated by default to the Fox device /dev/ttyS0.
Default baud rate and parity parameters for the PC serial port are: 115200,n,8,1. Flow Control=OFF.
The signal levels on this port are at 3.3 volt because they come directly from the Axis MCM ETRAX 100LX processor pins. This means that is NOT possible to connect directly the console port of the FOX board to a serial RS232 port of a PC.


Link between the J10 console port and an RS232 PC port

VCC (3.3 Volt)
RTS (Out)
TXD (Out)
RXD (Inp)
CTS (Inp)
GND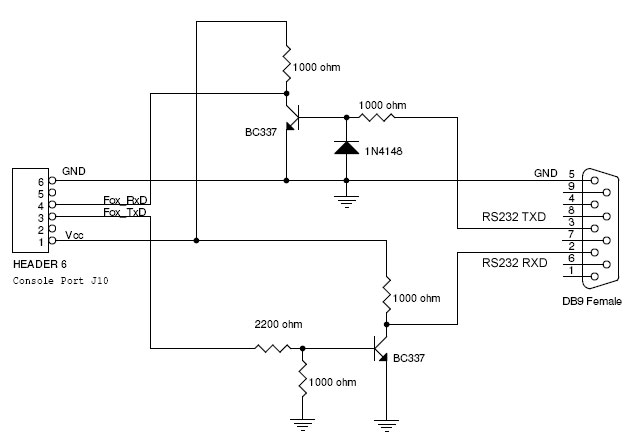 FOX Console schematic


Acme Systems srl
Via Aldo Moro 53 - 00055 Ladispoli (RM) - Italy
P.IVA/C.F. 08114831004
Tel +39.06.99.12.187 - Fax +39.06.622.765.31
http://www.acmesystems.it
Iscritta al Registro delle Imprese di Roma al n. 08114831004


Atmel© Certified Partner
Documentation Terms of Use
Acme Systems provides this documentation "as is" without warranty or guarantees of any kind. We not provide any direct support for the Open Source preinstalled software but, through these pages and forum posts, all of the information required to obtain the sources, install, use and update the Open Source software that can be run on the Acme boards. Please note that all of the preinstalled software, used on the Acme Systems products, are Open Source so you have to check the license terms provided by the authors (usually the GPL) before using it in any commercial or non-commercial product, by yourself. Before to contact us please note that WE ARE MAINLY HARDWARE DESIGNERS and NOT LINUX GURUS and therefore could be better to post your questions to the Acme Systems forum and ensure that all of the site contributors and large software community can read and reply to your questions.

This work is licensed under a Creative Commons Attribution-NonCommercial-ShareAlike 3.0 Unported License.