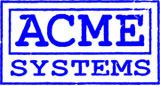 www.acmesystems.it
Personal blogs
Background
Acme's Friends
We would like to inform our clients that our shipping office will be closed from Aug 8 to Aug 23
TUX Case - Penguin shaped enclosure for the FOX Board SBC
TUX Case is the Acme Systems "physical" version of Tux designed in the far 2006 as a the enclosure for the FOX Board SBC. Made in limited edition by CAD2001 exclusively for Acme Systems it was created following the Sergio Tanzilli and Roberto Asquini idea to create a TUX toy that both represents Linux and runs it inside.

Tux is a penguin character and the official mascot created by Larry Ewing of the Linux kernel created by Linus Torvalds.
TUX case stands seventeen centimeters tall, with a girth of almost 34 cm and is composed of six parts in coloured PVC.
TUX Case pictures from all around the world
TUX case all over the world is a collection of photos sent by TUX case owners from everywhere who took ispiration from the French movie Le Fabuleux Destin d'Amèlie Poulain. If you have any new photos to add, please email us with a brief decription of the place or an explanation about the site or event
Related links


Acme Systems srl
Via Aldo Moro 53 - 00055 Ladispoli (RM) - Italy
P.IVA/C.F. 08114831004
Tel +39.06.99.12.187 - Fax +39.06.622.765.31
http://www.acmesystems.it
PEC: acmesystemssrl@pec.it
Iscritta al Registro delle Imprese di Roma al n. 08114831004


Atmel© Certified Partner
Acme Systems provides this documentation "as is" without warranty or guarantees of any kind. We not provide any direct support for the Open Source preinstalled software but, through these pages and forum posts, all of the information required to obtain the sources, install, use and update the Open Source software that can be run on the Acme boards. Please note that all of the preinstalled software, used on the Acme Systems products, are Open Source so you have to check the license terms provided by the authors (usually the GPL) before using it in any commercial or non-commercial product, by yourself. Before to contact us please note that WE ARE MAINLY HARDWARE DESIGNERS and NOT LINUX GURUS and therefore could be better to post your questions to the Acme Systems forum and ensure that all of the site contributors and large software community can read and reply to your questions.

This work is licensed under a Creative Commons Attribution-NonCommercial-ShareAlike 3.0 Unported License.