Aria G25 - Low cost Linux Embedded SMD module
Aria G25 is a cost-effective System-on-Module (SoM) thought of to drastically reduce the development time needed to design a low-power and low-EMI Linux Embedded device.
The more complex hardware like CPU, RAM, Ethernet, power and EMI components are integrated on a single SMD component in just 40x40 mm (1.57x1.57 inch) using an complex eight layers PCB permitting hardware designers to create their simple and cheap carrier boards.
Main features

CPU: ARM9 @ 400Mhz on Atmel AT91SAM9G25 SoC
RAM: 128 or 256 MByte DDR2
LAN: 10/100 Mbit
USB: up to 3 host ports:

one hi-speed host/device
one hi-speed host
one full-speed

UART: up to 6 serial lines
I2C: up to 2 I2C buses
SPI: up to 2 SPI buses
GPIO: up to 60 GPIO lines
A/D: up to four channel @ 10 bit

---

Power supply: single at 3.3 Volt DC
Consumption: see consumption...
Line level: TTL 3.3V
Temperature range: 0-70 °C and -20 +70 °C (-E version)
Size: 40 x 40 mm (1.57x1.57 inch)
Weight: 5g
Pads pitch: 1.27 mm (50 mill)
PCB layers: 8
User configurable led on board

Other features

OS boot from external microSD or SD card
RoHS and REACH compliant.
Low EMI.
No Acme Systems brand printed on-board.

---

Availability: > 5 years
Flat price up to 10K pcs
No MOQ

---

Designed and made in Italy
Software main features
Linux Kernel version 3.11
EmDebian Grip Linux 7.1 "Wheezy"
Ready to use bootable microSDs from Acme Systems eShop
Freely downloadable images to generate the bootable SD or microSD cards by yourself
Fully open source firmware, software environments and toolchains available from Atmel sites, Linux sites and Acme Systems repositories on GitHub
Freely available tutorial and code examples
Thousands of Open Source applications available from the Debian repositories
Almost all programming language available
C, Python, Perl and PHP already installed on the factory default microSD for in-board development.
Embedded parts
Quick visual guide to create your own board
Click on the following image to take to see how it's simple to wire external components to design your custom board using Aria G25: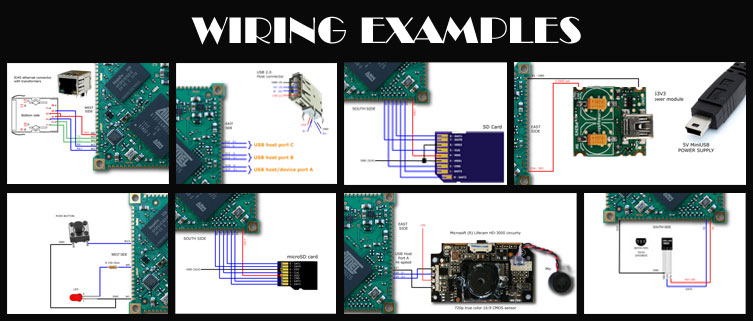 Evaluation boards and fast prototyping systems
Terra and Terra-M
A full features and easily expandable TERRA board is available to evaluate the Aria G25 SoM or to create end-user products for prototyping or low volume productions in the following application fields:
Remote control interface based on web 2.0 technologies on Ethernet or GPRS network
SMS gateways
Data center monitoring
Data loggers
Process control
Solid state CMS
TERRA board is easy to expand with GPS, MEMS, RS232, RS485, Industrial IO interfaces, Relais, LCDs, etc. thanks to the Daisy module system and it is available with or without an integrated Quad Band GPRS modem.
Berta board
Cheap prototyping board for lab experiments:
Software environment and development tools
Aria G25 is designed to boot a Linux Embedded distribution compiled for ARM9 architecure from a microSD or a SD card. Optionally is it possible to boot from a serial flash or use different operating systems following the info available on thirdy party web sites:
We propose, by default, a Debian Linux bootable from microSD card. Ready to use microSD cards are available on our eShop but any executable can be built starting from sources and following our tutorials. The basic requirements are a Linux Ubuntu PC.
Like any other Linux systems, on Aria G25 it is possible to develop in almost any language using differents tools. In the developers page we illustrate some different development methods available and examples to manage the embedded peripherals in C or Python languages.
The C compiler and the Python interpreter are pre-installed by default. Also a small web server (Lighttpd) and PHP language interpreter is already available for the web development.
Other languages, tools, web servers, etc are available from Debian binary repositories and can be installed in few minutes.
Custom boards based on Aria G25
If you like Aria G25 but have no time (or skill) to design and produce an OEM device by yourself, please visit the third party professional designer page and contacts directly the companies which could help you to create your custom project.
What you have to know before buying Aria G25 SoM
Price
The Aria G25 prices are fixed so don't change for hi-volume batch.
These are the main reasons:
Aria G25 is a Made in Italy product and you can buy directly it from the Italian factory so no resellers charges are applied to the final cost
Since it is made in-site we can apply the same discount for one or 10K boards because in every case we have to make the board one by one and we have access to hi-volume prices from our provider for components used on it
Each order is paid for in advance so you don't have to pay any interest rates
You can buy the Aria G25 on-line using our eShop or by contacting directly us. We can speak English, French, Italian and a little bit of Spanish.
Warranty terms
We make deep functionality tests on any outcoming board and the warranty does not cover boards which have been left out of its original enclosure for a long time (max 10 days) or when the pads are welded (please read the terms and conditions for more details).
Incoming test equipment
If you need to do an incoming quality test before mount the boards, we can provide a copy of our functionality test equipment we using for our outcoming tests contact us for more info and pricing.
What the Aria G25 board IS NOT
it is not an end-user product but a component without any connectors, strips, sockets, etc.
it is not a micro PC and doesn't have video out or lcd interface.
it is not a number cruncher and doesn't have a built-in mathematic co-processor.
Related links
Buy on-line
Aria G25 is a small and low-cost multi-chip module that integrates:

an ARM9 @ 400Mhz CPU Atmel AT91SAM9G25
a 128MB of DDR2 RAM
10/100 Ethernet interface
up to 3 USB 2.0 host ports
Normal temperature range version (-0° +70°)


| More info... |
Aria G25 is a small and low-cost multi-chip module that integrates:

an ARM9 @ 400Mhz CPU Atmel AT91SAM9G25
a 128MB of DDR2 RAM
10/100 Ethernet interface
up to 3 USB 2.0 host ports
Extended temperature range version (-20° +70°)


| More info... |
Aria G25 is a small and low-cost multi-chip module that integrates:

an ARM9 @ 400Mhz CPU Atmel AT91SAM9G25
a 256MB of DDR2 RAM
10/100 Ethernet interface
up to 3 USB 2.0 host ports
Normal temperature range version (-0° +70°)


| More info... |
Aria G25 is a small and low-cost multi-chip module that integrates:

an ARM9 @ 400Mhz CPU Atmel AT91SAM9G25
a 256MB of DDR2 RAM
10/100 Ethernet interface
up to 3 USB 2.0 host ports
Extended temperature range version (-20° +70°)


| More info... |
| | |
| --- | --- |
| | TERRA is a carrier board conceived both to evaluate the Aria G25 SoM and to make prototypes or small production batches of OEM equipments using the Daisy cabling system. |


Acme Systems srl
Via Aldo Moro 53 - 00055 Ladispoli (RM) - Italy
P.IVA/C.F. 08114831004
Tel +39.06.99.12.187 - Fax +39.06.622.765.31
http://www.acmesystems.it
Iscritta al Registro delle Imprese di Roma al n. 08114831004


Atmel© Certified Partner
Documentation Terms of Use
Acme Systems provides this documentation "as is" without warranty or guarantees of any kind. The maintainer of this site (Sergio Tanzilli), has gone to a great deal of effort into making this documentation as correct as possible. Acme Systems does not provide any direct support for the Open Source preinstalled software but does provide, through these pages and forum posts, all of the information required to obtain the sources, install, use and update the Open Source software that can be run on the Acme platforms. Please note that all of the preinstalled software, used on the Acme Systems products, are Open Source and you will need to check the license terms provided (usually the GPL) by each author before using it in any commercial or non-commercial product, by yourself. Before sending emails or calling the Acme staff please note that WE ARE MAINLY HARDWARE DESIGNERS and NOT LINUX GURUS and therefore ask that you post your questions directly to the forum listed below and ensure that all of the site contributors and large software community will read and reply to your questions.

This work is licensed under a Creative Commons Attribution-NonCommercial-ShareAlike 3.0 Unported License.