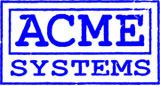 www.acmesystems.it
Personal blogs
Background
Acme's Friends
We would like to inform our clients that our shipping office will be closed from Aug 8 to Aug 23
FOX Board G20 - Linux Embedded SBC
FOX Board G20 is a ready-to-use low cost Linux embedded Single Board Computer designed to reduce the time to market of your Linux embedded applications
FOX Board G20 is Single Board Computer built around the ARM9@400Mhz Atmel CPU AT91SAM9G20.

The main fields of application are:


Solid-state web application servers
Embedded devices enhanced with Internet connectivity and Linux flexibility

Thousands of ready-to-run applications can easily be installed on the FOX Board G20 thanks to the Debian Linux distribution and its huge application repository.
Any programming language can be used to develop your own application (read more...).

Visit the FOX Board G20 technical documentation page to have access to hardware and software tutorials, examples of application, schematics, development software, etc.
FOX Board G20 main features
Two 40 pin sockets pitch 2.54mm are available to plug the board on specific application carriers or add-on boards. On these pins 3.3 Volt signals are available which can be used to implement RS232/RS485/RS422, I2C, SPI, GPIO, A/D and PWM interfaces.
A fast prototyping cabling system is also available to realize your end-user devices without without using the soldering iron or designing any custom board (Read more...).
Built on the Atmel ARM9 @ 400Mhz CPU module Netus G20-L (included)
256KB of FLASH memory for the bootloader
Up to 16GB on bootable microSD (*)
Two USB 2.0 host ports (12 Mbits)
One Ethernet 10/100 port
One USB device port (12 Mbits)
One debug serial port (3.3v)
Two serial ports (3.3v)
One serial port for 4DSystems oLed displays
5VDC power supply input (compatible with PS5V1A)
Real Time Clock with on-board backup battery (**)
GPIO lines (3.3v)
Built-in quad power supply Netus PS1 module
Same footprint and pinout of the old FOX Board LX832
Average power consumpiom: 80 mA @ 5V (0.4 Watt) without microSD, ethernet link, USB devices or other peripherals.
Operative temperature range: 0° + 70°
(*) the microSD card memory is optional
(**) the lithium backup battery for RTC is optional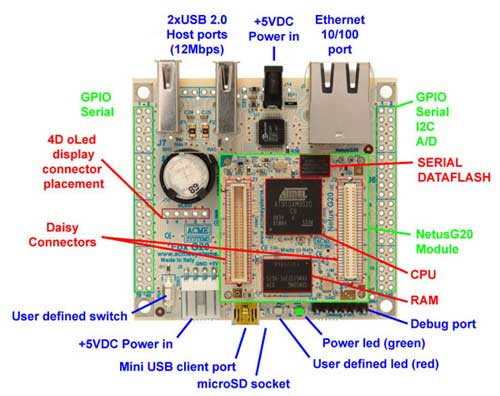 FOX Board G20 is a "ready-to-run" Embedded Linux System perfect to use as a solid state WEB server or as a core engine for your embedded appliances.

A fully Open Source environment is available to customize and build your own kernel image or to develop user applications using standard GNU tools. Version with Atmel AT91SAM9G20 with 256KB of FLASH memory, 64MB of RAM and up to 16GB of microSD.

FOXG20 needs some extra accessories in order to be operative:

a bootable microSD with Linux OS (see DEBM2G or DEBM4G products)
a 5 Volt DC power source (see PS5V1A product)
a 3V lithium battery for internal RTC circuitry (see CH23-1220 product)

An evalution kit with all the accessories you need to get started with FOX Board G20 is available on-line on this link: COMBO-2.


| Product description... |
Basic starter kit with all the hardware you need to get started with the FOX Board G20 Linux Embedded Single Board Computer

Parts included:

One FOX Board G20 (Code FOXG20)
One wall mounted power supply with 2 output at 5 Volt DC 500mA on USB port
One DPI Debug Port Interface (Code DPI)
One USB data cable for DPI
A bootable microSD with preinstalled Debian Linux
One Lithium backup battery for RTC circuitry model CR1220 (Code CH23-1220)
One FOXCASE-B black plastic enclosure (Code FOXCASE-B)


Acme Systems srl
Via Aldo Moro 53 - 00055 Ladispoli (RM) - Italy
P.IVA/C.F. 08114831004
Tel +39.06.99.12.187 - Fax +39.06.622.765.31
http://www.acmesystems.it
PEC: acmesystemssrl@pec.it
Iscritta al Registro delle Imprese di Roma al n. 08114831004


Atmel© Certified Partner
Acme Systems provides this documentation "as is" without warranty or guarantees of any kind. We not provide any direct support for the Open Source preinstalled software but, through these pages and forum posts, all of the information required to obtain the sources, install, use and update the Open Source software that can be run on the Acme boards. Please note that all of the preinstalled software, used on the Acme Systems products, are Open Source so you have to check the license terms provided by the authors (usually the GPL) before using it in any commercial or non-commercial product, by yourself. Before to contact us please note that WE ARE MAINLY HARDWARE DESIGNERS and NOT LINUX GURUS and therefore could be better to post your questions to the Acme Systems forum and ensure that all of the site contributors and large software community can read and reply to your questions.

This work is licensed under a Creative Commons Attribution-NonCommercial-ShareAlike 3.0 Unported License.