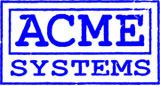 www.acmesystems.it
Acqua A5 - System On Module
Linux embedded system on module designed around the Atmel SAMA5D31 Cortex-A5 MPU
Main features

Atmel MPU SAMA5D31 Cortex-A5 @ 536MHz
256MByte DDR2 RAM @ 32 bit (optional 512MB)
Embedded µSD hinge type holder for OS and data
Optional 256 MByte of NAND FLASH on board
Atmel AT24MAC402 on-board:

Factory-Programmed unique EUI-48 address
I2C-Compatible (2-wire) 2-Kbit Serial EEPROM
Embedded Unique 128-bit Serial Number

10/100 Mbit ethernet I/F (can be turned off for power saving)
Three USB Host ports (one configurable as USB device)
Integrated 24 bit LCD controller and resistive touch panel I/F
Four status leds
Single power supply at 3.3 Volt DC
Three 50-pin connectors pitch 1.27 mm (50 mils)
Floating Point Unit
Low power consumption and low EMI
RoHS compliant
Commercial (-0 +70 °C) or Extended (-25 +85 °C) temp. range
Size: 53 x 53 mm (2.09x2.09 inches), weight: 14g
Placement for metal shield for harsh environment
AES/DES encryption engine
Software compatibility with Atmel SAMA5D3 Xplained board



Enlarge image

Exposed signals

10/100 Mbit ethernet phy
RGB i/f @ 24 bit for LCD TFT
Resistive touch panel i/f
TWI compatible I2C i/f (up to 3)
SPI bus i/f (up to 2)
GPIO lines (up to 120)
A/D @ 12 bit (up to 12)
Timer counters (up to 2)
Serial ports (up to 6)
3 USB Host, 1 USB device
Memory Card i/f (up to 2)
ITU-R BT 601/656 image sensor i/f
PWM (up to 6)
SSC-I2S audio i/f (up to 2)
Programmable clock (up to 3)
JTAG port on pads
Debug serial port
Battery input for internal RTC
Software available
All the software running on Acqua A5 is freely downloadable from the Acme Systems or Atmel web site and is fully Open Source.
The board is fully compatible with the Atmel SAMA5D3 Xplained board so from the Atmel site it is possible to download and use also Yocto and BuildRoot.
On this site we'll explain how to compile from sources or how to create a bootable microSD using the ready-to-run binary images of a Debian 7.5 with Linux Kernel 3.10.
| | |
| --- | --- |
| Top side view | Bottom side view |
Q.ty prices

To buy samples use our eShop
To have a written proforma for volume quantities Contact us
We sell and ship our products directly from Italy
For q.ty <100 pcs the lead time is about 1 week
Documentation
Operating System
Hardware reference
Altium designer library
Part datasheets
Binaries
MicroSD hinge type holder
| | |
| --- | --- |
| To open the Acqua microSD holder apply a gentle pression to the metallic shield then shift it ahead. | |
Metallic shield for harsh environment
If you plan to use Acqua A5 in an electromagnetic noisy environment (for example near DC motors) it is possible to place a metallic shield made by Wurth Elektronik to better protect the board from external EMI.

This shield is composed by two parts:

a metallic open frame to be welded to the board
a removable metallic cover
Evaluation boards
To getting started with Acqua A5 we made some cheap boards
called BERTA A5 which have a placement for the Acqua module and some peripherals already mounted.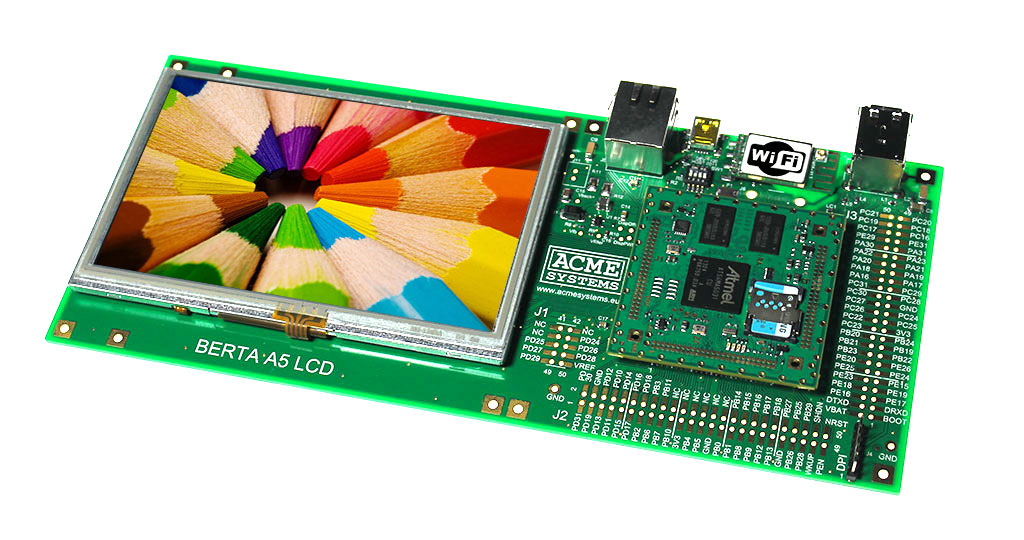 BERTA-A5-BASIC is just a breakout board to have all the Acqua A5 pins exposed on strip pitch 2.54mm (100mils).
BERTA-A5-EXTENDED like the BASIC model but with power supply, Ethernet and USB connectors already mounted
BERTA-A5-LCD like the EXTENDED model plus a TFT display 4.3, 5 or 7 inch with resistive touch panel.

SAMA5D3 ARM Cortex-A5 Microprocessors
| | |
| --- | --- |
| "Based on the ARM® Cortex™-A5 processor, the Atmel® SAMA5D3 series of microprocessor units (MPUs) operates at up to 536MHz (850DMIPS) at under 150mW, delivering a high-performance, low-power platform for cost-sensitive industrial and consumer applications" | |
Third party news about Acqua


Acme Systems srl
Via Aldo Moro 53 - 00055 Ladispoli (RM) - Italy
P.IVA/C.F. 08114831004
Tel +39.06.99.12.187 - Fax +39.06.622.765.31
http://www.acmesystems.it
Iscritta al Registro delle Imprese di Roma al n. 08114831004


Atmel© Certified Partner
Acme Systems provides this documentation "as is" without warranty or guarantees of any kind. We not provide any direct support for the Open Source preinstalled software but, through these pages and forum posts, all of the information required to obtain the sources, install, use and update the Open Source software that can be run on the Acme boards. Please note that all of the preinstalled software, used on the Acme Systems products, are Open Source so you have to check the license terms provided by the authors (usually the GPL) before using it in any commercial or non-commercial product, by yourself. Before to contact us please note that WE ARE MAINLY HARDWARE DESIGNERS and NOT LINUX GURUS and therefore could be better to post your questions to the Acme Systems forum and ensure that all of the site contributors and large software community can read and reply to your questions.

This work is licensed under a Creative Commons Attribution-NonCommercial-ShareAlike 3.0 Unported License.