PLEASE NOTE: This article is obsolete or related to a discontinued product.
DAISY-1 - Daisy adapter for the FOX Board G20
Daisy is a cabling method reducing development time of equipment based on both FOX Board G20 and Netus G20 boards. The basic idea is to be able to wire on-field interfaces onto the NetusG20 module faster, using plugged instead of welded cables.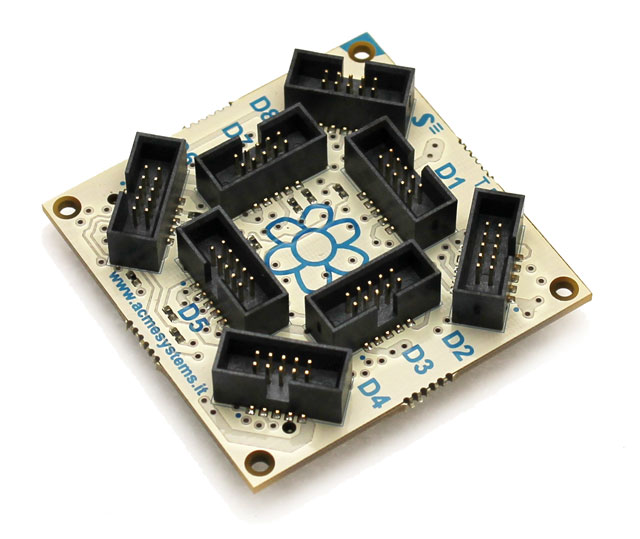 The DAISY-1 board is at the center of the Daisy cabling system. It is plugable over the NetusG20 board to provides 8 connectors to plug up to 8 or more daisy modules using ribbon flat cables.
Each connector is identified with a unique name as D1, D2, D3, etc. and has a different set of signals coming from the Atmel CPU.
Daisy connectors pinout
| | D1 | D2 | D3 | D4 | D5 | D6 | D7 | D8 |
| --- | --- | --- | --- | --- | --- | --- | --- | --- |
| PIN | ttyS2 | GPIO1/ttyS5 | GPIO/ttyS1 | ADC | GPIO2/ttyS6 | ttyS4 | SPI01 | ttyS3 |
| 1 | 3.3V | 3.3V | 3.3V | 3.3V | 3.3V | 3.3V | 3.3V | 3.3V |
| 2 | TXD (PB6) | PA31 (ID63-TXD) | TXD (PB4) | AVDD | PB12 (ID76-TXD) | TXD (PB10) | MOSI (PB1) | TXD2 (PB8) |
| 3 | RXD (PB7) | PA30 (ID62-RXD) | RXD (PB5) | VREF | PB13 (ID77-RXD) | RXD (PB11) | MISO (PB0) | RXD2 (PB9) |
| 4 | RTS (PB28) | PA29 (ID61) | RTS (PB26) | AGND | PB16 (ID80) | RTS (PC8) | CK (PB2) | |
| 5 | CTS (PB29) | PA28 (ID60) | CTS (PB27) | AD0 (PC0) | PB17 (ID81) | CTS (PC10) | NPCS0 (PB3) | |
| 6 | | PA27 (ID59) | DSR (PB22) | AD1 (PC1) | PB18 (ID82) | PB31 (ID95) | NPCS1 (PC5) | |
| 7 | TWD (PA23) | PA26 (ID58) | DTR (PB24) | AD2 (PC2) | PB19 (ID83) | TWD (PA23) | NPCS2 (PC4) | TWD (PA23) |
| 8 | TWCK (PA24) | PA25 (ID57) | RI (PB25) | AD3 (PC3) | PB20 (ID84) | TWCK (PA24) | NPCS3 (PC3) | TWCK (PA24) |
| 9 | 5V | PB30 (ID94) | CD (PB23) | 5V | PB21 (ID85) | 5V | 5V | 5V |
| 10 | GND | GND | GND | GND | GND | GND | GND | GND |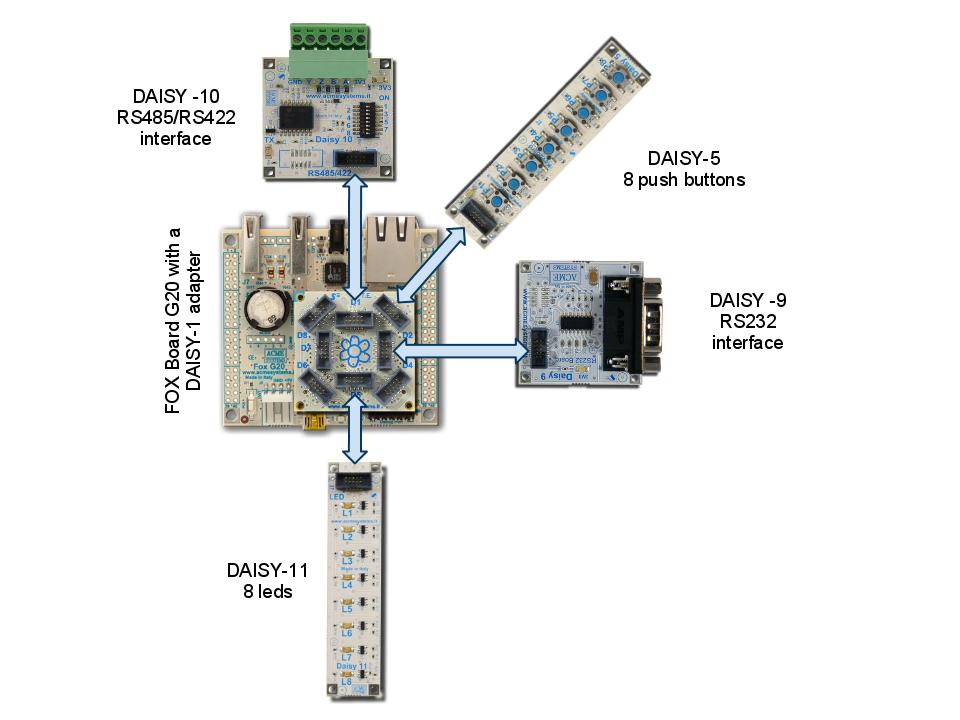 Schematics, datasheets and related links