PLEASE NOTE: This article is obsolete or related to a discontinued product.
DAISY-13 - GSM/GPRS quad band data module
The Daisy-13 module mounts a low power, quad band, GPRS class 10 data modem useful for remote access applications or SMS dispatchers.
This daisy module is discontinued
Daisy-13 just provides data services (GPRS link, GSM link or SMS) and is not suitable for voice based applications.
Main features:

Quad-Band GSM 850 / 900 / 1800 / 1900 MHz
Output power:

class 4 (2 W) for EGSM 850/900
class 1 (1 W) for GSM 1800/1900

Operative temperature: -20°C to +85°C
Power consuption:

Idle: < 2 mA
GPRS link: < 450 mA

Interface:

Serial port via Daisy D1 connector (/dev/ttyS2)
Wirings
This is the usable connectors where to plug this board using the factory default Linux image:
On the FOX Board G20 is requested a Daisy-1 adapter to wire-up this board.
More technical documentation from Teltonika: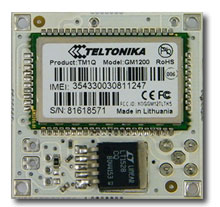 Send an SMS example
Related links