NETUSPS1 - Quad power supply module
NETUSPS1 is a power supply module designed to meet the power-up and power-down sequence requested by the Atmel AT91SAM9G20 CPU used on NETUSG20 module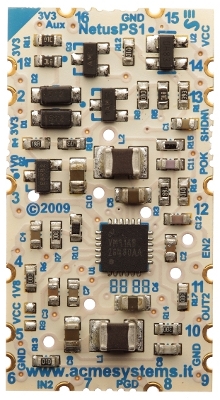 Features
Power is: 5 Volt DC
Power outs:

3.3 Volt @ 500 mA
1.8 Volt
1.0 Volt
Pinout
Power sequences
Each power-out line have to follows a timing sequence, any deviation from these sequences may lead excessive current consumption during power-up or freeze the device while booting:
Power-up sequence

Power-down sequence

1V0 power out is the first to start, when it reaches 0.5 Volts, the other two power out line 1V8 and 3V3 go on.

These two power lines reach 0,7 Volts within 50 us and become steady up well within 300 us.

The POK signal is generated by an on-board power supervisor chip (CAT811TTBI) when the VCC input (5 Volt DC) is stable.

The 3V3 and 1V8 power out line switchs off at the same time of 1V0 voltage.