PLEASE NOTE: This article is obsolete or related to a discontinued product.
DAISY-19 - 4 channels industrial range optoisolated output (0-48 Volt)
Four isolated outputs MOSFET channels for DC loads such as DC motors, Peltier cells, light bulbs, solenoids, resistive heaters, etc.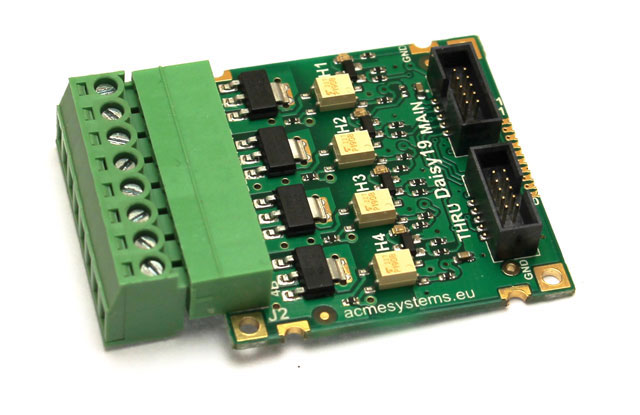 The board is equipped with four leds to check each output state. When a led is on its associated output is active (the MOSFET is conducting).
Features
4 channels output stage driven by MOSFETs
Drain-source voltage max: 48 Volt
Continuous source current: 3.5 A
Isolation voltage: 2500 Vrms (max)
The daisy connectors where to plug this board are:
On the FOX Board G20 is requested a Daisy-1 adapter.
General Layout
The following picture shows Daisy-19 connectors and monitoring LEDs.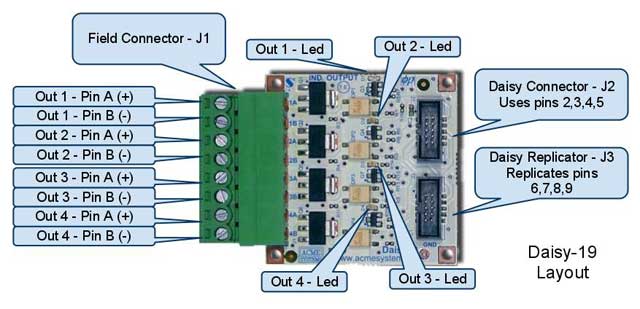 Connecting to a Daisy-1
Up to 2 Daisy-19 boards can be connected to the same Daisy-1 connector by means of the Replicator connector J3. So full use of all I/O pins on a single Daisy-1 connector is made. This applies to Daisy-1 connectors: D2, D3, D5 provided all pins are set as GPIO.
Daisy-19 cascading feature is illustrated by the following picture :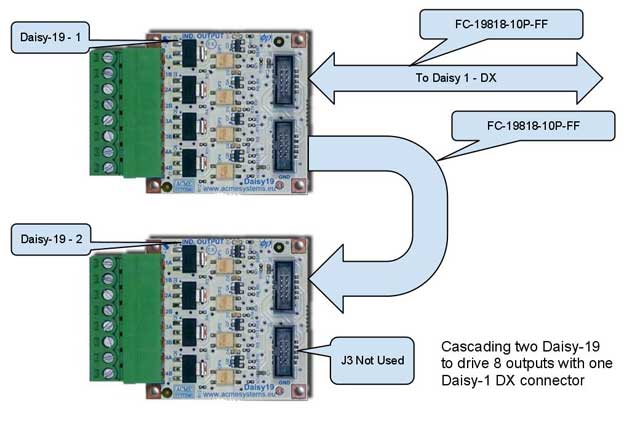 Using one board to drive loads in more than one way
Due to the "floating" optoisolated N channel MOSFETs, the Daisy-19 is able to handle different kinds of loads and drive configurations with single and dual power supply :
Sink mode (aka NPN)
Up to 4 loads can be driven in this configuration.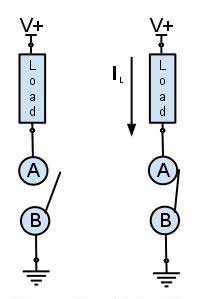 Source mode (aka PNP)
Up to 4 loads can be driven in this configuration.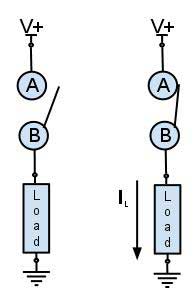 Half H bridge mode
Up to 2 loads can be driven in this configuration.
Make sure voltage between V+ an V- does not exceed 48V.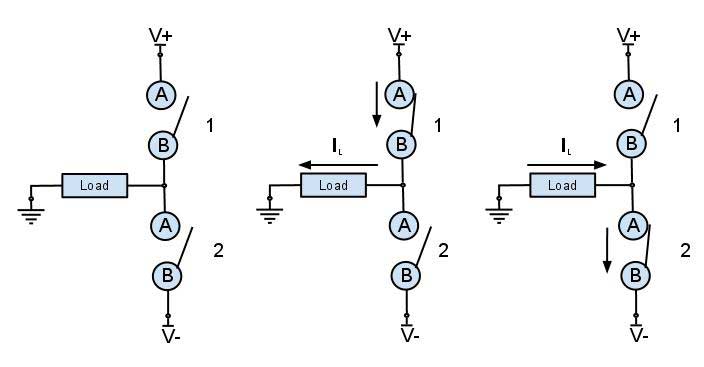 Full H bridge mode
Just 1 load can be driven in this configuration.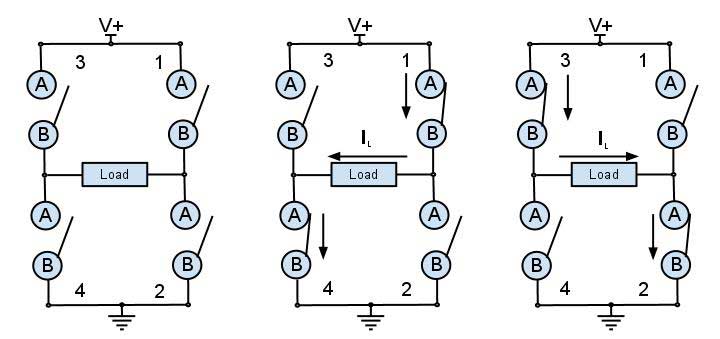 Mixed modes are easily handled by Daisy-19 as shown in the following case list:
Case A :
Output 1 : Sink mode +24V
Output 2 : Source mode +5V
Output 3 : Source mode +12V
Output 4 : Sink mode +5V
Case B :
Output 1 : Sink mode +24V
Output 2: Source mode +5V
Outputs 3 & 4 : Half Bridge +/-12V
Case C :
Outputs 1 & 2 : Half Bridge +/-24V
Outputs 3 & 4 : Half Bridge +/-12V
Daisy connector pinout (MAIN)
| Pin # | Signal |
|-------|--------|
| 1     | 3V3    |
| 2     | A      |
| 3     | B      |
| 4     | C      |
| 5     | D      |
| 6     | ext A  |
| 7     | ext B  |
| 8     | ext C  |
| 9     | ext D  |
| 10    | GND    |

Schematics, datasheets and related links