The Acme Systems shipping office will be closed for holidays from 14 august to 22 august
PLEASE NOTE: This article is obsolete or related to a discontinued product.
DAISY-31 Mbus module
Daisy adapter for the wireless M-bus radio module AMB8425-M made by Amber Wireless.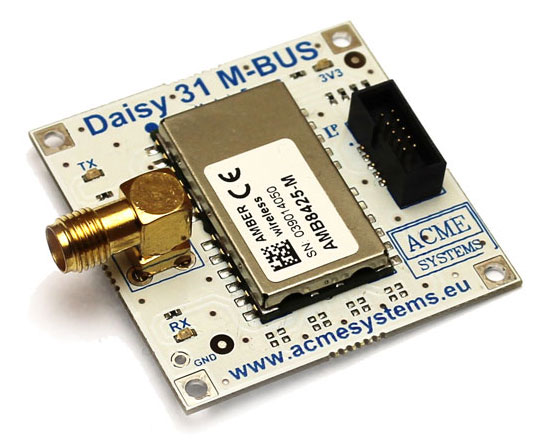 This daisy module is discontinued
This module was designed as a subcomponent group for wireless reading of meters. It complies with the requirements of EN13757-4:2005 (wireless Mbus) and can be used wherever such radio communication is needed.
The following operating modes are supported:
S1 / S1-m / S2
T1 / T2 (meter/ other)
R2
A serial interface (UART) whose data rate and format can be adjusted flexibly is available for the communication with the Acme board via Daisy interface. All transfer parameters listed in the standard (coding methods, chip rate, carrier frequency, preamble length, etc.) can be adjusted flexibly via the user interface. The module is suitable for use in the meter, but can also be used in a repeater or concentrator.
M-Bus (Meter-Bus) is a European standard for the remote reading of gas or electricity meters. M-Bus is also usable for other types of consumption meters.
The daisy connectors where it's possible to plug this board are:
On the FOX Board G20 is requested a Daisy-1 adapter to wire-up this boards.
Hardware reference
Related links