The Acme Systems shipping office will be closed for holidays from 14 august to 22 august
FOX Board G20 technical documentation
PLEASE NOTE: This article is obsolete or related to a discontinued product.
FOX Board G20 V2 - Beta
Note: The FOX Board V2 was an experiment and will not be available as standard product.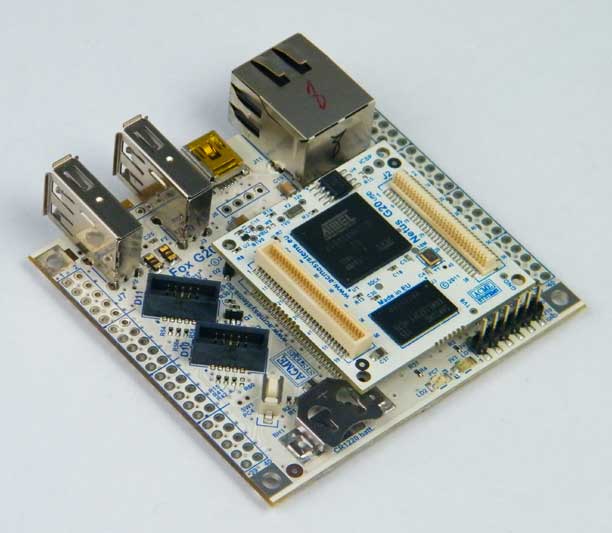 Features of FOX Board G20 V2
Double microSD slot
4 on-board Daisy connectors
Low EMI
Mini USB power supply connector instead of 3.5 plug
Power cycle on USB ports via 1-wire commands
1-wire temperature sensor on-board
Same J6 and J7 pin-out
J8 (the floppy-like power plug) removed
J16 (oLED) connector removd
Fully compatible with the NetusG20L
Turn-on the USB host ports
The two USB host ports on FOX Board G20 V2 are powered off by default at startup.
On this article is explained how to turn-on them at startup:
If you want to try quickly this feature use this pre-compiled uImage:
Using this image you don't need to load the module w1_ds28ea00.ko.
Schematics