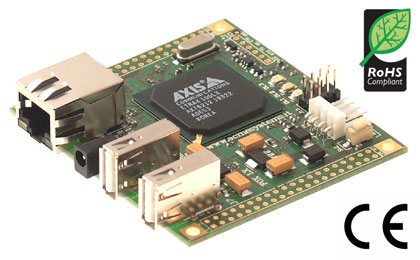 The FOX Board LX832
Zoom image
Software features
| | |
| --- | --- |
| Kernel | Up to version 2.6.19 |
| Server | HTTP (WEB), FTP, SSH, TELNET |
| Driver | USB Pen driver, FTDI and PROLIFIC USB to Serial Converter |
| SDK | Fully Open Source and freely downloadable Software Development Kit |
| Language | C, C++, PHP, PYTHON, etc |
Hardware Features
Size
66 x 72 mm (2.6 x 2.8 inches)
Cpu
100MIPS Axis ETRAX 100LX
32 bit, RISC, 100MHz
Memory
8MB FLASH 32MB RAM
Power
Single power supply
5 Volt 280mA (1 watt)
Ports
1 Ethernet (10/100 Mb/s)
2 USB 1.1
1 serial console port
Extension
2 extension sockets with IDE, SCSI, serial lines, parallel ports, I/O lines, I2C bus interface
Weight
37 gr
Temperature range
0-70 °C
FOX Board runs a real Linux operating system (not a uC Linux) on an ETRAX 100LX microprocessor, a 100MIPS RISC CPU made by Axis Communications.

FOX Board has two main field applications:
As a stand alone device to build a micro web server or other network devices as proxy, router, firewall, etc.
As a core engine to plug onto the PCB of a user application board instead of a simple microcontroller.
Two USB 1.1 host interfaces can be connected to USB memory stick, hard disk, webcam, modem, Wi-Fi or Bluetooth dongle, ADSL adapter, Serial converter, etc.
Through the 10/100 ethernet interface it is possible to have access to the internal Web server, FTP server, SSH, Telnetd and the complete TCP/IP stack.
Two 40 pins sockets step 2.54mm (0.1") are available to plug the board on application specific carrier or add-on boards (See: ). On these pins are available a lot of signals as explained below.

Download a printable brochure.
Languages: English | Italian
FOX Board LX832 is powered with an
ETRAX 100LX microprocessor made by

The world wide leader on
network cameras and printer servers
http://www.axis.com
Documentation
Price and ordering informations
Buy the FOX Board LX directly from our eShop section.