Netus G20 - Legacy system on module
Netus G20 is a legacy Linux module still maintained under production for the customers that already use it in their production.
This module is not suggested for new applications.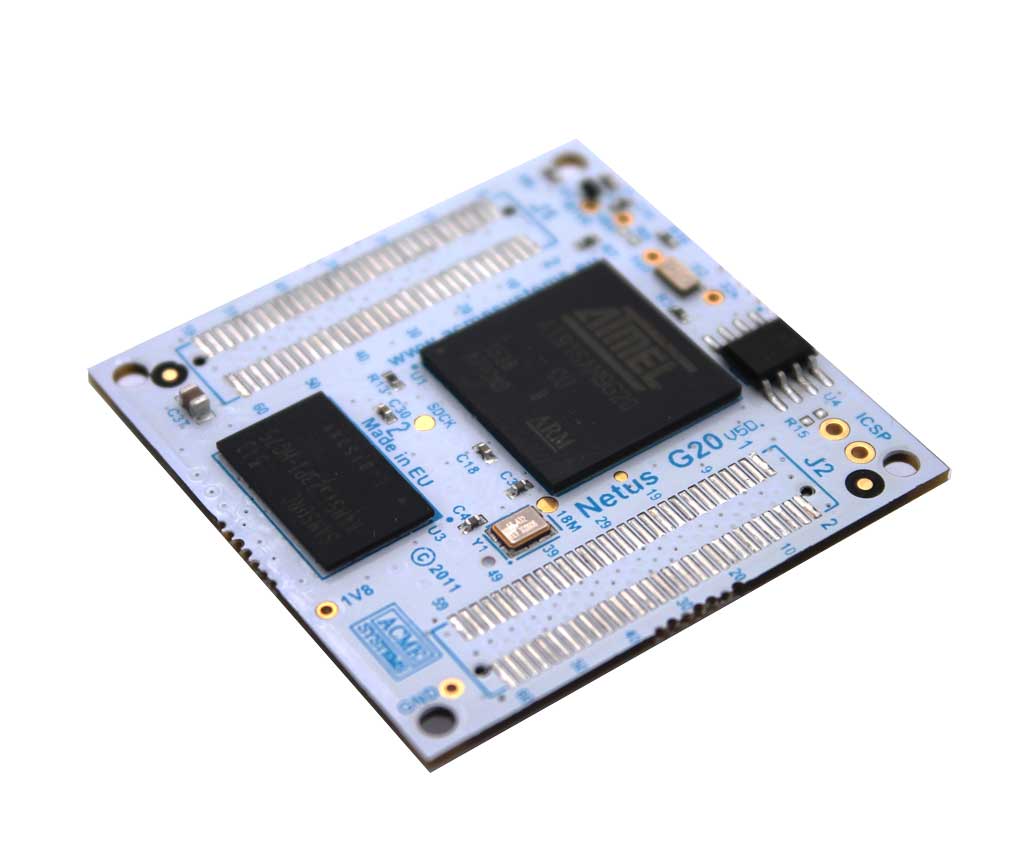 Main features
CPU Atmel AT91SAM9G20 based on ARM926EJ-S - ARM ® Thumb ® Processor with an internal clock speed of 400MHz
64MBytes of SDRAM with 32bit parallel access
256KB of data flash (NETUSG20-L)
Size 40x40mm. Weight 10g
Operative temperature range: -20° + 70°
Four 60 pin connectors (0.8mm pitch) with the following signals available both on top and bottom sides (see the pinout)

One USB 2.0 (12 Mbits per second) Device Port
Two USB 2.0 (12 Mbits per second) Host Ports
One Ethernet MAC 10/100 Base T Port
Image Sensor Interface (ITU-R BT. 601/656 12 bit)
One Two-slot MultiMedia Card Interface (MCI). SDCard/SDIO and MultiMediaCard Compliant
Four Universal Synchronous/Asynchronous Receiver Transmitters (USART) with RS485 support
Two 2-wire UARTs
Two Master/Slave Serial Peripheral Interfaces (SPI)
One Synchronous Serial Controller (SSC). I2S Analog Interface Support
Two Wire Interface
Four-channel 10-bit ADC
80 general purpose I/O lines multiplexed with up to two peripheral I/Os
Individually Programmable Open-drain, Pull-up Resistor and Synchronous Output
All I/O Lines are Schmitt Trigger when programmed as inputs
Input Change Interrupt Capability on Each I/O Line
Serial 2 wire console port
JTAG Console and Boundary Scan on All Digital Pins (IEEE ® 1149.1)

Two Three-channel 16-bit Timer/Counters with PWM Generation
Watchdog timer
Real-time clock (optional external battery backup)
Very Slow Clock Operating Mode
Documentation
Please note
Currently the Netus G20 boards are shipped without the connector mounted on top. If you need these connector please ask.
Netus G20 is a legacy SoM still made for the old productions, for new design please consider to use the Aria G25 SoM
The 8MBytes models with data flash or serial flash are not available anymore