Roadrunner technical documentation
BuildRoot-at91 2020.04
BuildRoot is a set of makefiles and patches that makes it easy to generate a low footprint Embedded Linux System.
This article il just the Acme Systems version of the original article published by Microchip on https://www.linux4sam.org/bin/view/Linux4SAM/BuildRoot tested on a RoadRunner SOM and a Berta D2 dev board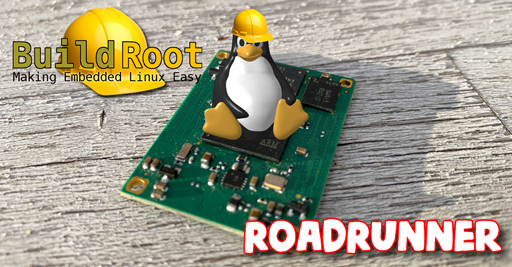 Notes
We illustrates here just how to generate the just rootfs contents. For the bootloader and Kernel image please read these articles:
The article contents has been tested using a Linux PC with Ubuntu 18.04.4 64bit
It is advisable to have a Debug Port Interface or another serial adapter
Building procedure
Install on your Linux PC the requested packages listed here:
Download BuildRoot from the Microchip repository on GitHub:
git clone https://github.com/linux4sam/buildroot-at91.git

Select the right branch:
cd buildroot-at91
git checkout linux4sam-2020.04 -b buildroot-at91-linux4sam-2020.04

Insert the Acme Systems setup files applying this patch:
wget https://raw.githubusercontent.com/AcmeSystems/acmepatches/master/buildroot-at91-2020.04.patch

and apply it by typing:
patch -p1 < buildroot-at91-2020.04.patch
make acme-bertad2_defconfig

Launch the rootfs contents compilation:
make

This operation will take about 1 hour to download and compile any source of any part of your Linux distribution.
If everything goes well you will obtain these compressed files in output/images directory:
rootfs.tar

Create two partitions on microSD using gparted:
| Type  | Label  | Size  |
+-------+--------+-------+
| fat32 | boot   | >8MB  |   
| ext4  | rootfs | >70MB |

Copy the bootloader, the linux kernel and the device tree blob generated before on the first microSD FAT partition:
cp boot.bin /media/$USER/boot
cp at91-sama5d2_roadrunner.dtb /media/$USER/boot/acme-roadrunner.dtb
cp zImage /media/$USER/boot

Untar the rootfs contents in the second microSD partition:
sudo tar xvf output/images/rootfs.tar -C /media/$USER/rootfs

Unmount the microSD and boot it on your RoadRonner board.
At login and password prompt type:
login: root
password: acmesystems
How to install new package on rootfs
To install new packages from the menuconfig menu type:
make menuconfig

Then exit and save the new configuration by typing:
make savedefconfig

Related links