PLEASE NOTE: This article is obsolete or related to a discontinued product.
DAISY-2-V2 - Stepper motor driver board
3 Ampere r.m.s bipolar stepper motor driver board based ST L6470 fully integrated microstepping motor driver with motion engine and SPI chip
This daisy module is discontinued
The L6470, realized in analog mixed signal technology, is an advanced fully integrated solution suitable for driving two-phase bipolar stepper motors with microstepping. It integrates a dual low RDS(on)DMOS full-bridge with all of the power switches equipped with an accurate on-chip current sensing circuitry suitable for non-dissipative current control and overcurrent protection. Thanks to a unique control system, a true 1/128 steps resolution is achieved.
The digital control core can generate user defined motion profiles with acceleration, deceleration, speed or target position, easily programmed through a dedicated registers set. All commands and data registers, including those used to set analogue values (i.e. current control value, current protection trip point, deadtime, PWM frequency, etc.) are sent through a standard 5-Mbit/s SPI. A very rich set of protections (thermal, low bus voltage, overcurrent, motor stall) allows the design of a fully protected application, as required by the most demanding motor control applications.
Key features
Operating voltage: 8 - 45 V
7.0 A out peak current (3.0 A r.m.s.)
Low RDS(on)Power MOSFETs
Programmable speed profile and positioning
Programmable power MOS slew rate
Up to 1/128 microstepping
Sensorless stall detection
SPI interface
Low quiescent and standby currents
Programmable non-dissipative overcurrent protection on high and low-side
Two-levels of overtemperature protection
Daisy wirings
This board is pluggable on:
J3 pin-out
SW1 dip-switch and P1 headers
| | |
| --- | --- |
| | This dip-switch selects which SPI CS use for this board and if send the SDO back to the SPI interface: |
Stepper motor wirings
We tested the examples on this article with the following stepper motors:
Mercury NEMA-17 stepper motor SM-42BYG011-25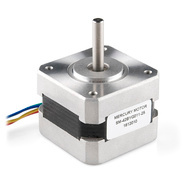 Wirings map:
Wantai NMEA-23 stepper motor 57BYG621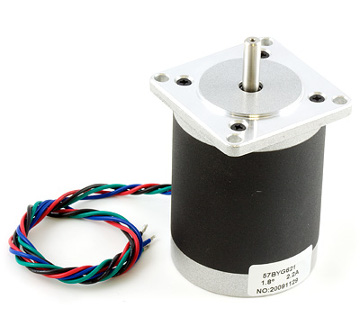 Wirings map:
Schematic