FOX Board G20 technical documentation Buy
FOX Board G20 - Legacy Linux Embedded SBC
FOX Board G20 is a legacy Linux single board computer still maintained under production for the customers that already use it in their production.
This board is not suggested for new applications.
FOX Board G20 is Single Board Computer built around the ARM9@400Mhz Atmel CPU AT91SAM9G20.

The main fields of application are:


Solid-state web application servers
Embedded devices enhanced with Internet connectivity and Linux flexibility

Thousands of ready-to-run applications can easily be installed on the FOX Board G20 thanks to the Debian Linux distribution and its huge application repository. Any programming language can be used to develop your own application
Main features
Two 40 pin sockets pitch 2.54mm are available to plug the board on specific application carriers or add-on boards. On these pins 3.3 Volt signals are available which can be used to implement RS232/RS485/RS422, I2C, SPI, GPIO, A/D and PWM interfaces.
A fast prototyping cabling system is also available to realize your end-user devices without without using the soldering iron or designing any custom board (Read more...).
Built on the Atmel ARM9 @ 400Mhz CPU module Netus G20-L (included)
256KB of FLASH memory for the bootloader
Up to 16GB on bootable microSD (*)
Two USB 2.0 host ports (12 Mbits)
One Ethernet 10/100 port
One USB device port (12 Mbits)
One debug serial port (3.3v)
Two serial ports (3.3v)
One serial port for 4DSystems oLed displays
5VDC power supply input (compatible with PS5V1A)
Real Time Clock with on-board backup battery (**)
GPIO lines (3.3v)
Built-in quad power supply Netus PS1 module
Same footprint and pinout of the old FOX Board LX832
Average power consumpiom: 80 mA @ 5V (0.4 Watt) without microSD, ethernet link, USB devices or other peripherals.
Operative temperature range: 0° + 70°
(*) the microSD card memory is optional
(**) the lithium backup battery for RTC is optional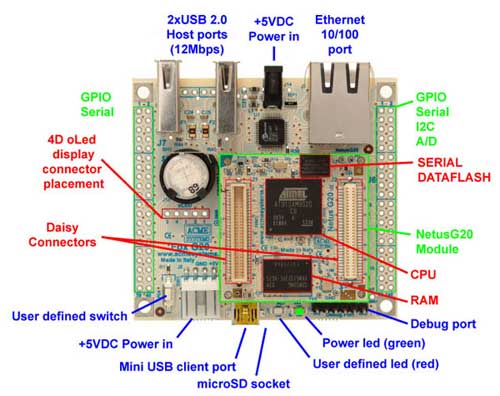 Please note
Currently the Netus G20 boards are shipped without the daisy connector mounted on top. If you need these connector please ask.