Main features
Exposed signals and external devices
Please note that not all the signales are available at the same time. Some line are muxed together.
Software Features
Pin muxing
Most of the Arietta lines on J3 can be configured for additional functions using the muxing cabability of the Atmel MPU. The default configuration depends from the at91-arietta.dtb file stored on the first micro SD partition and used at startup by the Linux Kernel.
The Arietta dynamic pinout page may helps you to understand what are the available peripherals and how to generate this file.
BOM origins
Design and manufacturing
Tutorials
Software
Hardware reference
Datasheet
Declarations and test reports
Arietta pinout
This is the default pinout of Arietta G25 when you use the latest default image available in the image repository.
It is possible to change it by using the Device tree compiler and dynamic Arietta G25 pinout page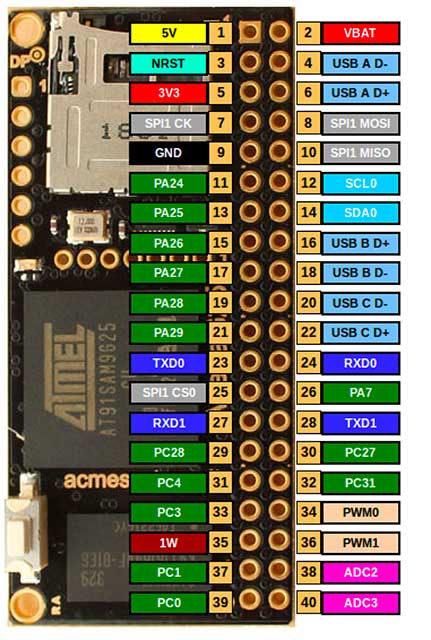 Debug port pinout
This port is designed to be used with the Debug Port Interface to have access to the debug messages sent by the Atmel MPU at startup (RomBOOT), during AT91Bootstrap second level boot loader and the Linux Kernel bootstrap.
From this port is is possible to Login directly to the Linux console using a simple serial terminal emulator on your PC.
WiFi module placement pinout
This port is designed to place this WiFi module.
To know hot to configure it:
Schematic
To know more about how are routed each signal inside the Arietta board please take a look to the Arietta schematic.
Video
Prices for quantity
To buy samples use our eShop
To have a written proforma for volume quantities Contact us
We sell and ship our products directly from Italy
For q.ty <100 pcs the lead time is about 1 week