h10 technical documentation Buy
Berta H10 - LoRa low-power fast prototyping system
Create your own battery-free energy-harvesting solar powered LoRa sensors in minutes with this fast prototyping system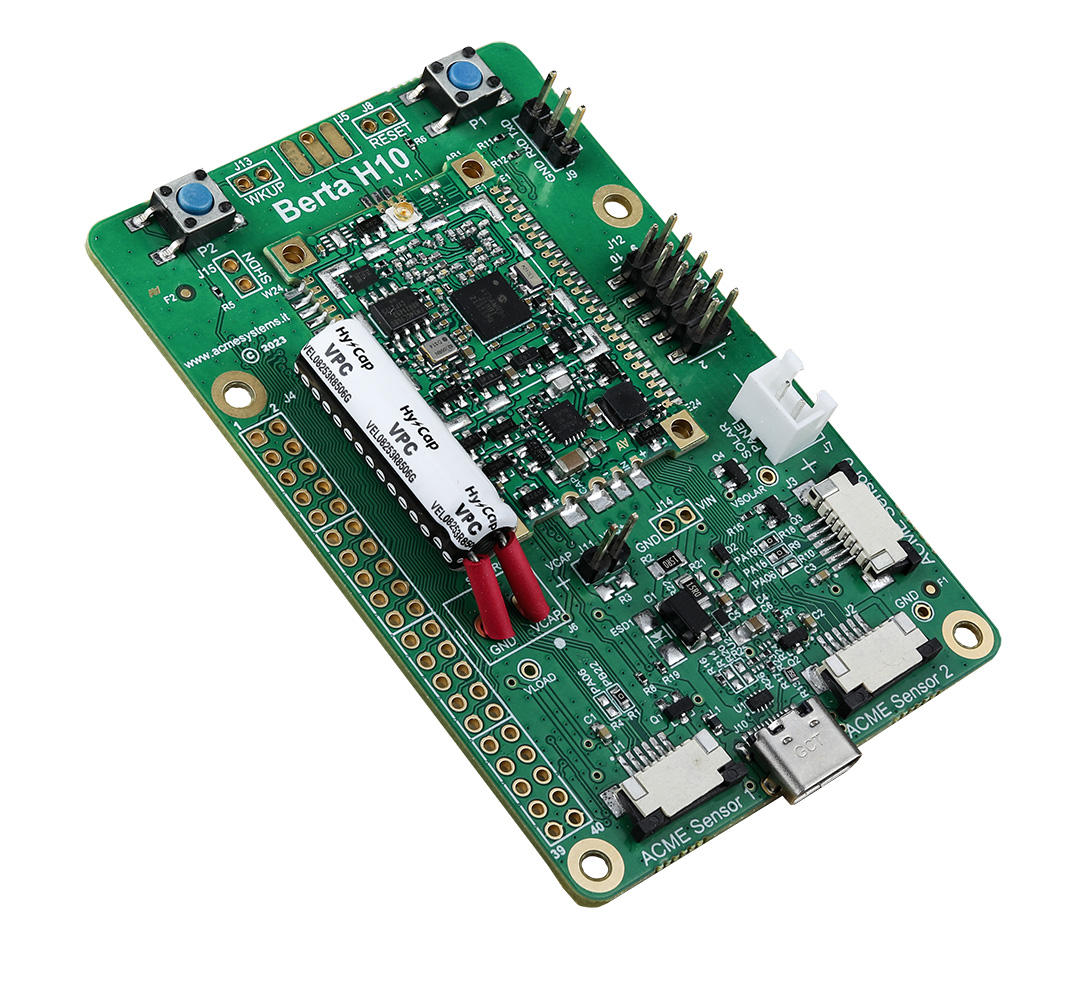 Berta H10 is the main component of a fast prototyping system designed to create your own energy harvesting LoRa sensor device:
BATTERY-FREE
the energy is stored on a 50 Farad VINATech hybrid capacitor with low self-discharge and a wide operating temperature range. H10 device can be left in standby mode without any light up to 100 days waiting for input or timing events to wake up and transmit data.

VERY LOW POWER CONSUMPTION
Just 4.29 µW (microWatt) in standby mode and 66 mW (milliWatt) in transmit mode allow the devices to remain operational for an extended period, even in total absence of light.

HIGH QUALITY SOLAR PANELS
We have selected the best panels on the market and designed the best circuits to optimize their perfomance.

CUSTOM POWER CIRCUITS
We designed from scratch the power charging section to collect energy even at extremely low brightness levels (50 LUX).

CUSTOM DESIGNED ISM ANTENNA
To achieve maximum transmission efficiency, a highly optimized PCB antenna was designed completely from scratch

SENSORS AT STATE OF THE ART
All the ACME sensor proposed have been selected among those that represent the state of the art in terms of performance and low power consumption. Each ACME Sensor port can be completely turned off.

FULLY OPEN-SOURCE SOFTWARE ENVIRONMENT
The software environment proposed by default is RIOT, the friendly Operating System for the Internet of Things. The language used is C. Everything is available under the Open-Source GitHub repositories.
Description
The main brick of this system is the Berta H10 board that includes:

A H10 module:

CPU Microchip SAM R34 (Cortex M0+ @ 48MHz)
LoRa radio fully compatible with LoRaWan
Power charging circuitry
Ferroeletric RAM
Cripto chip

50 Farad hybrid capacitor
Wake-up push button
Reset push button
2x20 pins pitch 2.54mm with GPIOs for user applications
USB-C device port
Solar panel power input
SWD port for in-circuit programming and debugging
Serial console port @ 3.3 volt (115200,8,N,1)
IPEX MHFI receptacle for external antenna
Documentation
Related products