Linux embedded system on module designed around the Microchip SAMA5D27 Cortex-A5@500 MHz MPU
Features
CPU: Microchip SAMA5D27 MPU (Cortex A5 single core @500MHz)

On-the-fly AES encryption/decryption on DDR and QSPI memories
32-Kbyte L1 data cache, 32-Kbyte L1 instruction cache
128-Kbyte L2 cache configurable to be used as an internal 32 bit single cycle SRAM
5 Kbytes of internal scrambled SRAM:

1 Kbyte non-erasable on tamper detection
4 Kbytes erasable on tamper detection

256 bits of scrambled and erasable registers
Up to seven tamper pins for static or dynamic intrusion detections
Secure Boot Loader
RTC including time-stamping on security intrusions
Programmable fuse box with 544 fuse bits including JTAG protection and BMS
NAND controller
ARM NEON (tm) SIMD Media Processing Engine
Hardware Floating Point Unit
Hardware cryptography

SHA: SHA1, SHA224, SHA256, SHA384, SHA512; compliant with FIPS PUB180-2
AES: 256, 192, 128 bit key algorithm; compliant with FIPS PUB 197
TDES: two-key or three-key algorithms; compliant with FIPS PUB 46-3
True Random Number Generator (TRNG); compliant with NIST Special Publication 800-22 Test Suite and FIPS PUBs 140-2 and 140-3

RAM: 256 MByte of DDR3L RAM @ 166MHz
FLASH: Up to 128 MByte of QSPI flash memory @ 133MHz
Extended temperature range: -40&degC; to +85°C
Small form factor: 40 x 30 (3.5mm height over carrier board)
Weight: 5g
10 layers VIPPO technology PCB
Single power supply at 3.3 Volt DC
Ultra Low-power mode with fast wakeup capability
Low-power Backup mode with 5-Kbyte SRAM and SleepWalking (tm) features
Wakeup from up to eight wakeup pins, UART reception, analog comparison
Extended Backup mode with DDR in Self-Refresh mode
Low power consumption:

100% CPU (memtester): 143mA @ 3.3V (472mW)
idle (at Linux prompt): 84mA @ 3.3V (277mW)
Ultra LowPower 1 (ULP1) (resume in 159ms): 5.3mA @ 3.3V (17mW)

Low EMI (multiple ground planes and impedance controlled tracks)
RoHS compliant
Signals
Two Hirose 6Gbps 100-pin connectors 0.4 mm pitch, with all the CPU signals:
10/100 Mbit ethernet GMAC with IEEE1588 Precision Time Protocol (PTP)
RGB i/f @ 24 bit for LCD TFT
Resistive and capacitive touch panel interface
Synchronous Serial Controllers SSC/I2S (up to 2)
TWI compatible I2C i/f (up to 7) up to 400 Kbits/s supporting I2C and SMBUS
SPI bus i/f (up to 7)
Quad Serial Peripheral Interfaces QSPI (up to 2)
One Stereo ClassD amplifier
Peripheral Touch Controller PTC with up t o 8X-lines and 8Y-lines (64-channel capacitive touch)
Pulse Density Modulation Interface Controller PDMIC (digital microphone)
Two master CAN-FD MCAN controllers with SRAM-based mailboxes
GPIO lines (up to 128)
A/D @ 12 bit (up to 12)
Serial ports (up to 10: five USART and five UART)
One additional Rx only UART in backup area RXLP
One analog comparator ACC in backup area
2 high-speed USB Host, or 1 USB Host and 1 USB device
1 high-speed Inter-Chip HSIC USB port interface
Two high-speed memory card hosts (SDIO, SD or MMC):

SDMMC0: SD 3.0, eMMC 4.51, 8 bits
SDMMC1: SD 2.0, eMMC 4.41, 4 bits only

ITU-RBT.601/656/1120 Image Sensor Controller ISC supporting up to 5M-pixel sensors
Two 3-channel 32-bit Timer/Counters TC , supporting PWM modes (up to 6 out)
One full-featured 4-channel 16-bit PWM controller
Programmable clock (up to 3)
JTAG port
Debug serial port
Battery input for internal RTC, backup area and backup RAM
Documentation
Software reference
Hardware reference
Hardware design guides for carrier board development:
Other links
RoadRunner pinout
Berta D2 - Evaluation board for RoadRunner SoM
The Berta D2 is the basic evaluation boards for the RoadRunner system-on-module. It provides the minimal peripherals to turn-on the RoadRunner, run Linux, try the network an USB host and device capabilities. It has also 160 pin 2.54 mm pitch with all the signals exposed by the RoadRunner module to try your own interface. The board is compatible with the Teko Tekal-3 case.
Features
Placement for one RoadRunner SoM
1 USB host port
1 USB device port on microUSB used also for 5 VDC power in
1 Ethernet port with etherney phy
1 MicroSD socket
Serial debug port pins
HSIC signal on pad
Test point for power comsuption measurements
4 placements for 20x2 pin headers or socket 2.54mm pitch
1 0.47F supercap for RTC and backup memory circuitry
Reset push-button
Boot-off push-button
Form factor compatible with Teko Tekal 31.29/30 enclosure
The Berta D2 board can be used as
Development kit to evaluate the RoadRunner features
Fast prototyping system for your application using it as a mother board and the Teko Tekal 31.29/30 enclosure as enclosure.
Hardware reference design for your custom project based on RoadRunner SOM
Useful Links
RoadRunner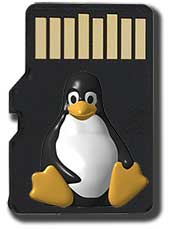 Kernel Linux 4.9.40 - Debian Jessie 8.9
Version: 07-aug-2017
MicroSD contents for RoadRunner with SSH installed.
Binaries
How-to create a bootable microSD
A Linux Ubuntu PC is required
Format a microSD with gparted (read more) and mount it
Download the binaries
Uncompress the binaries to the microSD with the following commands:

$ tar -xvjpSf boot.tar.bz2 -C /media/$USER/boot 
$ sudo tar -xvjpSf rootfs.tar.bz2 -C /media/$USER/rootfs 

unmount the microsd and try it on your board
Login data
Login: root Password: acmesystems
Login: acme Password: acmesystems
Create the binaries from sources
Defconfig and device tree used